text.skipToContent
text.skipToNavigation
Control panels for optimal production processes

Discover the many functions of Mitsubishi Electric control panels!
 
Advances in technology are changing the way almost every industry operates. To remain competitive in the market, manufacturers are constantly looking for the latest and greatest innovations, strategies and systems. The increasing demand for IoT solutions like accessible information at all levels, predictive and preventive maintenance, mobile and cloud solutions, security, seamless integration, plug & play etc. are often expensive and complex. Everything can of course be filled in with all kinds of hardware and software, but often creates a lack of clarity and the need to acquire a lot of extra knowledge in-house.

Where other control panels stop, Mitsubishi Electric control panels continue to offer many functions for optimising your production processes.

Mitsubishi Electric offers you a wide variety of control panels with an impressive list of additional standard functionalities. With this, the GOT2000 panels offer a real perspective on the automation process and a complete platform for solving typical production problems that can negatively affect OEE. These include optimal monitoring and diagnostics from the network to connected variable speed drives, servo & motion, robots etc.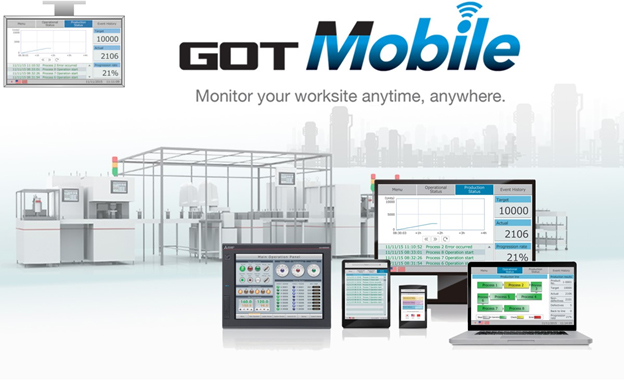 The features will help reduce downtime through optimal troubleshooting and diagnostics, thereby increasing availability and improving efficiency. Combined with the GOT Mobile feature, everyone can access crucial production data via smartphones, tablets, standard PCs and large screens hanging in production halls.
 
Various functions for maintenance, troubleshooting and diagnostics are available as standard. This benefits operational functionality: after all, you no longer need to use an external PC for commissioning or troubleshooting. With the Document Display function, complete user manuals or your own startup documents can be stored on the GOT2000 for immediate reference in the field. This is not only convenient, but can also facilitate more efficient on-site support, which in turn leads to higher plant uptime.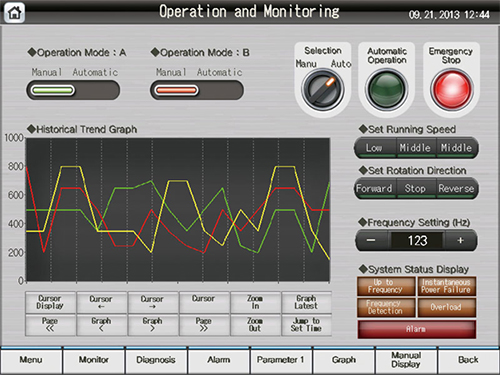 Contact us now for more information!
You might also be interested in this:
Siemens SIPLUS
The availability of machines and plants is a basic requirement for productivity. In order to minimize unplanned downtimes, it is necessary to detect the sources of error at an early stage. This is exactly where SIPLUS CMS Condition Monitoring Systems come in: they continuously monitor the condition of mechanical components of your machines – even throughout the entire plant. SIPLUS CMS therefore represents an important step toward the digital factory, where all the players including machines, products and people along the value chain will be networked. SIPLUS CMS working together with MindSphere – the cloud-based, open IoT operating system from Siemens – opens up completely new possibilities. The powerful cloud platform is designed for analyzing large quantities of data and enables machine parks all over the world to be monitored for service purposes in order to reduce their downtimes.
Read further
Phoenix Contact Axioline
The modular station communicates with a PROFINET controller, e.g., a distributed control system, via a bus coupler. As an option, up to eight PROFIBUS PA segments can be connected to the individual proxy outlets in a compact way. To ensure the individual segments are immune to interference, appropriate shield connection technology is available.
Read further
Pepperl Fuchs IO-link
Plants, products, and systems are becoming increasingly networked. This has resulted in a major effort to set machine-to-machine communication standards. In recent years, one such standard has already established itself on the market: OPC UA.
Read further
Siemens SENTRON 3KD
SENTRON 3KD load switches and 3KF fuse switch disconnectors provide reliable personal safety and ensure a high level of system availability in industry, infrastructure and buildings. The latest 3KD and 3KF versions can be used for a wide range of applications and have innovative functionality for reporting problems and statuses. In order to eliminate risks, the SENTRON 3KD and 3KF meet all the necessary requirements of a main, emergency stop or isolating switch.
Read further