A completely new and easy to use range of safety relays
The brand-new Preventa XPS Universal range of safety modules is designed to simplify the user's life (both in terms of choice and use). It provides differentiated diagnostics for cable architectures (40 different status messages) without a fieldbus interface. In addition, the range is able to provide status information on the verification test intervals to be performed and the number of remaining end-of-life cycles. To make the choice even easier, the safety functions can be selected directly on the housing, which significantly reduces the number of references and therefore the number of required spare parts.
Preventa XPS Universal combines the simplicity of wired safety modules with a variety of messages that in the past required complex and expensive fieldbus technology. With a simple point-to-point connection using an ordinary cable between the intelligent output and the digital input of a PLC, the Preventa XPS Universal safety modules can send more than 40 different messages.
In addition, thanks to an intelligent auxiliary output, the safety modules provide information about upcoming test cycles and the number of remaining end-of-life cycles.
How does it work? The Preventa XPS Universal safety modules send modulated signals to the machine controller. The machine builder provides two function blocks in the machine driver to decipher these signals. In order to simplify commissioning, Schneider supplies a library of function blocks for all the programming systems of the Schneider Electric PLCs and the programming systems of the most common PLCs available on the market.


The Preventa XPS Universal safety modules: the best choice for simple to moderately complex machines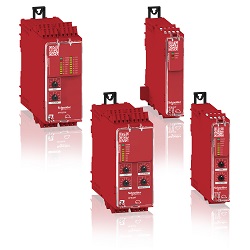 ​​​​​​​This makes the Preventa XPS Universal safety modules the best choice for a wide range of simple to moderately complex machines: easy to use because integration is always based on a wired connection and no field bus is required.
The modules are an answer to the demand for differentiated diagnostic information and the approaches towards preventive maintenance. Each reference from the range of safety modules can be adapted to several safety functions. The functions can be set with a finger or a screwdriver by turning the rotary switches on the front. Its multifunctionality makes it possible to reduce the number of references, while offering a wide variety of safety functions, and at the same time to limit the logistics and documentation of a machine.
Certified plug-and-play solutions are already available. The certified safety solutions from Schneider Electric are examples of applications with documented architecture. This allows reliably defined safety functions to be provided and the development of protected machines to be accelerated.
Some technical features of the Preventa XPS Universal range of safety modules:
protection against unwanted alterations: front with a transparent flap that can be sealed to cover the selector switches.
extension module: no external cabling required (except XPSU-AB and XPSU-EP).
extensive choice of delay times: choice from 0.1 to 900 seconds for machines with weak or high inertia.
compact modules, flexible mounting: width 22.5 and 45 mm, DIN rail or direct wall mounting (housing IP40, clamps IP20)
2 power supply options for all references: power supply 24 VAC / DC + extended power supply 48 ... 240 VAC / DC
options with removable spring clamps for all references