ABB TruONE™ Automatic Transfer Switch
 
Switch automatically to ease installation and save space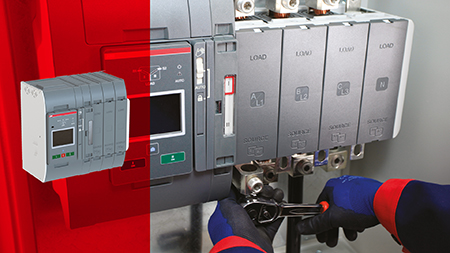 In critical environments automatic transfer switches are used to detect power failure and automatically switch to an emergency power supply. This way, business continuity and 24/7 operational safety can be ensured. This makes it the ideal solution for critical applications, such as hospitals, data centres and telecom installations.

An automatic inverter is often a complex installation with various sensors, controllers, switches and operator interfaces that are wired together. With the TruONE ATS ABB now offers an all-in-one module, including an integrated controller with removable user interface (HMI). This makes installation faster, easier and more reliable.
 
All-in-one for optimal safety
More safety, less cabling and more intelligence - that's the TruONE Automatic Transfer Switch. This automatic transfer switch has all the connectivity and monitoring features necessary for critical environments and applications. It is the first automatic transfer switch to bring together all the necessary sensors, the switching mechanism and the controller. The fast changeover time to the emergency power supply also further enhances safety.
The all-in-one concept of the TruONE ATS guarantees optimum reliability and safety. Even when under load, the ATS can be operated manually in emergencies using the handle on the housing. TruONE ATS is further distinguished by the detachable HMI which is completely separated from live parts. This significantly improves safety for the user.
 
Fast installation - better cost of ownership
The TruONE automatic changeover switch is easy to install; one cable and standard housing are sufficient. This saves 80% of installation time per unit, reduces the amount of cabling and significantly speeds up commissioning. In addition, the use of the TruONE Automatic Transfer Switch saves 20% in space! All in all, this results in an excellent Total Cost of Ownership.
 
Predictive maintenance
TruONE ATS is the first automatic transfer switch with built-in predictive maintenance functionality. The switch's own status is continuously monitored, as is the environment, by means of temperature measurement and wear monitoring at the contacts. This ensures reliable switching when emergency power is required.
 
Connectivity
The TruONE ATS has the same user interface and software environment as the intelligent ABB Emax2 circuit breaker. Maximum connectivity is ensured thanks to the support of a wide range of communication protocols. In combination with the cloud-based ABB AbilityTM Energy and Asset Manager, TruONE ATS also simplifies the remote management of environments.
Want to know more about ABB's TruONE Automatic Transfer Switch? Then check out the website, download the knowledge document or check out the video here.